While we were waiting for Sam's arrival, we were committed to not buying a lot of baby stuff (with the exception of onesies and diapers). I did not want our house to turn into Baby Land (you know what I'm talking about - those houses that look like Babies R Us exploded?). I remember coming across a list of
essentials for newborns on Babble.com
, and didn't know whether to laugh or stress out when it listed 100 items. Do we really need a baby monitor when Sam is sleeping in the next room and we can hear every little movement? A vibrating bouncer? That's an essential?
Our deal was all we need is diapers, wipes, some onesies, a car seat, and a soft place for him to sleep. Keep it simple. You don't need a lot of STUFF to entertain your baby. Sam's current favorite toy is an empty yogurt container and funnel from the kitchen.
We've come across some awesome and inexpensive gear that we love and
use every day
. Before we had Sam, Taylor and I researched a TON, and I wish I had had a friend recommend products that they used often and didn't cost an arm and a leg. I am NO authority on all things baby (I've been at this for barely six months), but a lot of friends are having babies, so I thought this would be helpful. Or maybe you're headed to a baby shower and want to give a gift that they'll actually use!
Bonus: every item costs less than $30.
I've attached a link to the heading of each item if you want more information.
IKEA BURP CLOTHS
These are HUGE, and almost the size of a swaddling blanket. You can drape one over your entire arm/front/whatever for tons of coverage. They don't bunch up like the cloth diapers/burp cloths when you wash them, and they're super absorbent. $3.99 for 2 burp cloths. You'll hate using your other burp cloths after you've used these!
I got Sam one of these for Christmas, and he loves it! We bring it with us when we eat out, and stick fresh fruit inside that he can munch on without the danger of choking. He loves chomping on melon or chicken in this. There are similar mesh versions, but this one is a lot easier to clean (and you can buy replacement silicone inserts). It's a quick fix for a fussy baby when you're eating out and a fun and easy way to introduce them to new foods. $12.80 on Amazon.
BABY BJORN SOFT BIB
$12 seems steep to me for a bib (we were gifted this), but it's made of soft silicone, which means you can just spray it off in the sink after each use. Plus, most of the fabric ones we were given bunch up when you wash them and are then too small to provide much coverage. Save yourself some laundry (I swear the amount of laundry quadrupled when we had Sam!).
For a while this was the only toy we had for Sam, and boy, he loves them! $7.06 on Amazon, and I've seen them for $3-4 in stores. A nice quieter toy for Church, and attaches to the car seat for long drives. Sam wasn't able to really play with these until he was about two months old.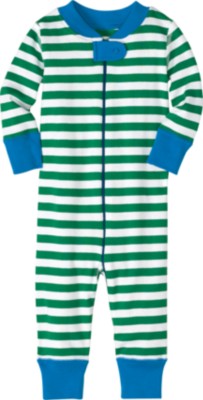 Let me tell you, it is
so
nice to be able to zip up pajamas at 3am rather than figure out those darn snaps when you're legally blind without your contacts or glasses (you should have seen me the first few weeks). I love the classic Hanna Andersson pajamas. They're a little pricey ($32), but they're thick cotton, and hold up so well from wash-to-wash. Luckily there's a Hanna Andersson outlet in Seattle (one of only 8 in the US) where every now and then they go on sale for as low as $10. If you ever want me to pick up some cheap Hannas for you, let me know! They fit so well, and come in fun prints and colors. I now absolutely refuse to buy pajamas that have snaps - no matter how cute they are. Once your baby starts squirming and kicking, you're going to be grateful for that single zipper.
SLEEP SACKS
are also wonderful for newborns! We were iffy about putting Sam in something that looked like a dress, but they made diaper changes a cinch (and they're so snuggly!).
CAR SEAT ADAPTER FOR YOUR STROLLER
It is so nice to be able to just snap your car seat onto your stroller and go straight from the car to the store. Getting Sam in and out of a car seat completely stressed me out, so this was a lifesaver. It's great for quick trips to the grocery store - I just use the bottom compartment of the stroller to hold groceries. Our adapter cost about $30. Nearly every stroller out there has a compatible adapter for your car seat.
CARTERS ONESIES
$8.99 for a pack of 4 at Target (which I think is steep, but oh well). These really do fit the best, as they're a little on the longer side. Buy a ton, but don't waste your money on the newborn size. Sam only wore the newborn size once: on the day he was born. I ended up putting him in 3-month onesies because it's easier to put a slightly-too-big onesie on your newborn when you're a panicky new mom and just putting on a clean onesie is a stressful, scary ordeal.
H&M ONESIES
They come in darling patterns and colors, and they're so, so soft! They stay looking brand new wash after wash, which is a bonus. 2 for $10. Such a good deal!

JERSEY PANTS
I love the longer fit of the
Favorite cuffed pants from Baby Gap
(they go on sale all of the time - I just got four pairs at 30% off this weekend). The H&M ones are great, too ($5!). Babies and jeans just don't go together. Sam has more pairs of jeans than Taylor and I put together, but he never wears them because they're so bulky on him and a NIGHTMARE to get on when he's fussy. If I could wear soft jersey pants all-day, every day, I would!

It looks like a torture device, but it's wonderful. We didn't use ours until Sam was about 3-4 months old, but I wish we started using it earlier. He LOVES this lounge chair! Stick it in the bathtub (there's suction cups on the bottom to keep it still), and they've got a nice seat in the warm bathwater. Sam goes crazy in this thing. He loves being able to splash all he wants with both arms and legs, and it's nice for us to be able to use both hands. We got ours from Amazon for $17. There are some fancy (expensive) baby bath seats that fit in your sink, but I like using the bathtub and not having to worry about getting water everywhere. It also works well in the shower if you don't have a bathtub.
This showed up on our front porch one day (like a lot of mystery packages from Amazon - thanks, Mom), and at first I considered sending it back because I thought it seemed a little excessive. But when Sam started eating solids, this was just what we needed. We break the rules and stick it on our kitchen table when we're eating, and Sam loves it! It's similar to a Bumbo, but I wouldn't recommend it for a really young baby (we started using this around 4 months). We borrowed a Bumbo from a friend while we were in Salt Lake for the holidays, but we're too cheap to buy one. Sam loves the toys on this, and it's easy to take apart and wash in the kitchen sink when it gets covered in prunes and rice cereal.
RHINO OBALL RATTLE
Sam's favorite toy, hands-down. Thank you, Picketts! This was the first object Sam was able to hold on his own, and he loves it. $8.95 on Amazon, but they're $5 at Target!
FOOD PROCESSOR or BLENDER
Taylor gave me a
mini food processor
as my birthday gift last year. I was so excited! You'll never need to buy baby food if you have a blender or food processor (our blender is terrible, so only try the blender if you have a decent one). I had no idea making baby food was so easy. I just saw a bag of frozen cubes of baby food for sale at the market for $9, and the ingredients were sweet potato and pumpkin pie spice. I could make double the amount for less than $1 at home!
SANDRA BOYNTON BOOKS
Not a necessity by any means, but these books are darling and hilarious, which is great for your sanity. Sam is only interested in eating books at this point, but I'm excited for the day when he'll be able to understand these and laugh with me. I've seen them for $3-5 at TJ Maxx, and they're all available on Amazon. I just learned that you can get a
customized version of Are You a Cow at Pint Size Productions
. A fun gift idea?

ANYWAY, I hope this was helpful and slightly interesting. That's what I can come up with this morning - anything you would add?